Kurt Kitayama held off the world's very best, claiming his first PGA Tour win. He did so overcoming a triple bogey, and two drives that went out of bounds over the weekend. Kitayama's world ranking is now 19th and with his explosiveness and upside, who knows where he lands up by the end of the year.
We are going to ask a few questions that will guide us through a multitude of areas that impact how we go about handicapping an event. We look at historical odds of winners, traditional weather, skills that matter, and a few more interesting things. The goal of this article is to provide you with a high-level understanding of the nuances associated with this week's course and players.
I am a proud member of the RotoBaller team and put out a bunch of articles and podcasts each week that includes a more detailed research article, as well as DFS and betting articles that are intended to make your weekly golf experience that much more enjoyable. They are a combination of free and premium articles, with our premium package providing all the tools, articles, and discords you could wish for (code: "maniac" for 10% off). You can find me on Twitter an unhealthy amount of the time @TheModelManiac, if you have any questions, compliments, or insults for me.
Featured Promo: Want a free RotoBaller Premium Pass? Check out these sports betting promo offers from the top sportsbooks! All new sign-ups get a free bonus offer on their first deposit, and a free year of RotoBaller's Premium Pass for all sports ($450 value)!
Sign Up Now!
#1. Dogs or Dimes?
Were the odds of the last few winners closer to a dime or were the underdogs sniffing around the top of the leaderboard?
A healthy combination of favorites and long shots have sniffed around the top of the board over the last two years. Year three was cut short due to Covid.
Finishing positions of the golfers with the shortest odds to win: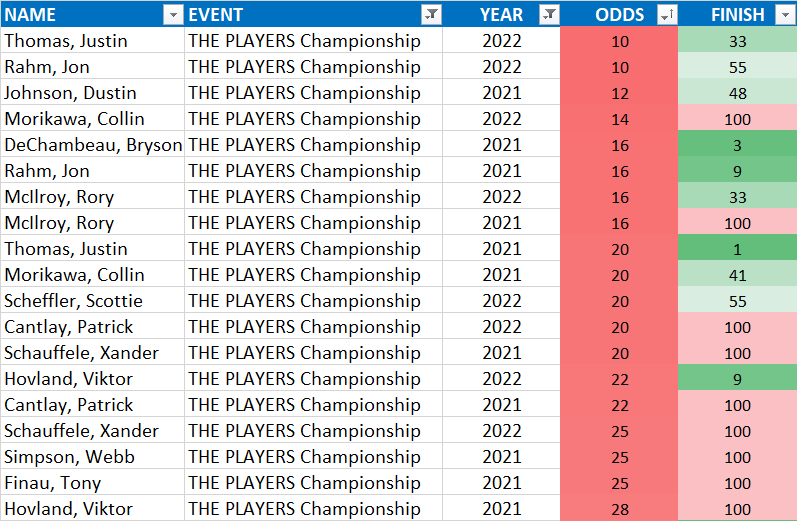 #2. History or Mystery?
Is course history a strong predictor of success or is this week going to be a mystery?
Course history correlations are one of the highest on tour at TPC Sawgrass.
These are the golfers with the best average strokes gained (remember that 2020 was only a single round):
These are the golfers with the worst average strokes gained:
#3. Birdies or Bogeys?
What kind of scoring conditions can we expect this week?
The last three winners of this event shot -13, -14 and -16 with the top five of those tournaments averaging -6.6, which my model considers hard difficulty.
The best strokes gained average on medium courses:
The best strokes gained average on medium courses, as we don't have a massive sample size of hard courses on tour, in this field are typically majors:

#4. Weak or Peak?
Is the strength of the field at its peak or is it weak?
These designated events are loaded with superstars, and the PLAYERS is going to bring all of them together again this week.
Did you know RotoBaller has a Premium DFS PGA subscription?
Like what you read today? You can show your support for Byron by using the discount code MANIAC when purchasing a PGA Premium Pass. You get 10% off and full access to all of our Premium PGA articles, DFS tools, and Lineup Optimizer! You also get access to weekly betting picks from Spencer Aguiar, one of the top betting minds in the industry. Spencer is absolutely crushed it in 2023!
#5. AM or PM?
What is the weather usually like at this event?
Lucky we are not playing golf on Wednesday. Wind looks rather normal for the four days of golf, which is much needed for this event after the disastrous wind we experienced last year.
#6. Distance or Direction?
Is distance or direction the most important stat off the tee?
The best Strokes Gained off the tee in the field:
The best drivers on courses less than 7,200 yards:
The best Strokes Gained off the tee in the field:
#7. Wedges or Woods?
Which proximity buckets are going to see the most divots this week?
52.3% of approach shots will come from 125-200.
These are the golfers that rate out the best when taking the above proximity buckets and prorating them:
#8. Sand or Grandstand?
Are errant approach shots going to land up in the sand or grandstands?
We are going to focus on golfers that have all around good short game as there are run off areas, rough, and bunkers guarding greens throughout the course.
These are the golfers who excel around the green:
These are the golfers who excel out the rough:
#9. Bermuda or Bent?
Are we putting on Bermuda or Bentgrass?
The best putters from inside 15 feet on all surfaces:
The best putters inside 15 feet on Bermuda over the last 50:
#10. Model or Maniac
Are there golfers who the model is not liking as much as the Maniac?
Below are the top 10 golfers in my model, along with their power ranking if we added 20% extra to each category in the column header:
These are a few golfers who the Maniac likes, who the model overlooked a little:
Hopefully, this helped you prepare for the odds dropping tomorrow morning! Good luck this week, and as always, may the odds be ever in your favor!!!
Win Big With RotoBaller
Golf is back, and it's time for you to win big with RotoBaller! Our PGA DFS Premium Package features several savvy analysts and proven DFS winners.
Our very own Joe Nicely recently took down a big DraftKings DFS tournament for the Travelers Championship. And as an encore, RotoBaller subscriber @tenndolly2 won $100K on FanDuel with the help of Joe and the rest of our Premium PGA team:
If you read my articles @RotoBaller or listen to @TheTurnGolfPod I've been telling y'all it was #WinningSeason when golf came back! Shoutout to the entire @RotoBallerPGA squad and all you guys that support my work for all the ❤️ pic.twitter.com/07a4ynvbSU

— Joe Nicely (@JoeNicely) June 28, 2020
Congrats @tenndolly2 ???

Thanks for being a @RotoBaller PGA DFS Premium subscriber & checking out all the amazing golf content that @JoeNicely produces every week! https://t.co/tHKZVsPbbt

— RotoBaller PGA (@RotoBallerPGA) August 10, 2020
Between all the incredible Premium PGA DFS content and tools we put out each week, and our Premium Slack Community where we chat with our subscribers before lineups lock, RotoBaller PGA subscribers are armed with the tools, analysis, and advice to win big.

Golf DFS News and Player Outlooks
More PGA Analysis and DFS Lineup Picks