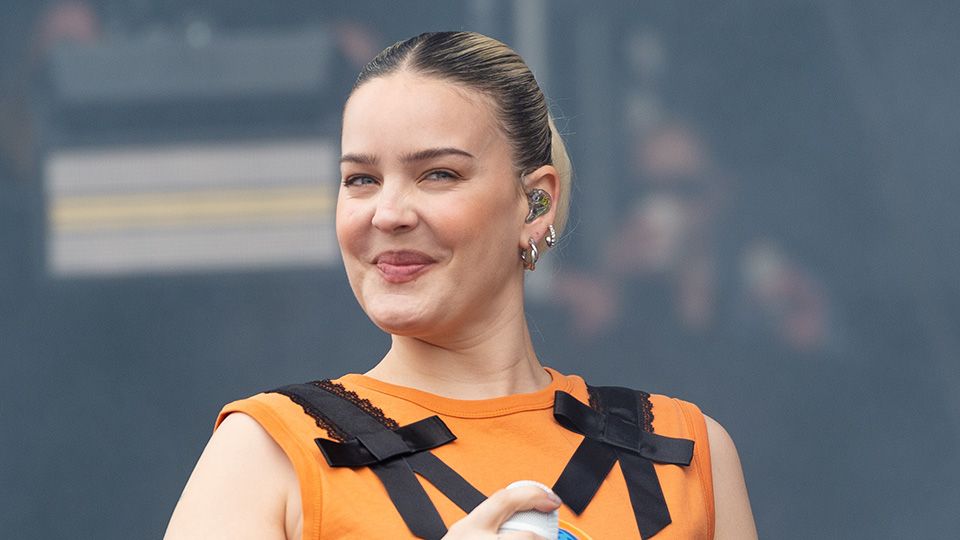 She's going to have a summer run!
Author: Anna Sky Magliola
Published 18 minutes ago

Anne-Marie might have only just started her run of dates on 'The Unhealthy Club' tour, but she's now announced a new series of dates for the summer 2024. The 'Obsessed' singer took to her socials to tell her fans: 'TOUR is just too good right now I don't want it to end so I've already planned next years SUMMER SHOWS hahahaha ☀️ I have no patience!
'See you at #TheUnhealthyClubSummerTour across England & Wales in 2024 💃'. (sic)
Since announcing her new tour, Anne-Marie's fans have been leaving excited messages. One wrote: 'i'm going on tour i guess' (sic), another said: 'One love ❤️🙌 @annemarie' and third commented: 'Loving it'.
When can you seen Anne-Marie on tour in 2024?
Anne-Marie has now announced eight dates across England and Wales starting in June 2024, and finishing in July 2024. The singer's current tour is in arenas, and this time she will be performing at festivals or other outdoor locations.
June 2024
Scarborough, Open Air Theatre – Thu 20th
Nottinghamshire, Sherwood Pines – Sat 22nd
Cornwall, The Wyldes – Sun 23rd
Staffordshire, Cannock Chase – Thu 27th
July 2024
Leeds, Sounds of the City – Thu 4th
Gloucestershire, Westonbirt Arboretum – Fri 5th
Cardiff Castle – Sat 27th
Ludlow Castle – Sun 28th
How to buy tickets to see Anne-Marie
You will be able to buy tickets to see Anne-Marie from Aloud.com from 9am on 24th November. You can buy tickets for her current tour right now.
You can hear songs by Anne-Marie on heat radio. 🎶
Take a look at tours coming up in 2023 and 2024:
Diversity – 'Supernova'
Britain's most-successful dance group, Diversity will be taking their all-new 'Supernova' tour on a 64-date run around the UK in 2023 and 2024.
Anne-Marie – 'The Unhealthy Club Tour'
Anne-Marie will be taking her upcoming 'Unhealthy' album on tour in November 2023. Performing across England and Wales, you can expect to hear some of her biggest hits.
Cian Ducrot – 'Victory Tour'
Cian Ducrot will be taking his debut album 'Victory' on tour in November 2023. He will be performing in Newcastle, Nottingham, Sheffield, Birmingham, Brighton, London, Norwich, Southampton, and Manchester.
Madonna – 'Celebration Tour'
Madonna announced 'The Celebration Tour' on 17th January. The singer will be performing hits from the last 40 years, and the show will pay respect to New York City, where her career in music began.
She played four shows at London's O2 Arena in October 2023 and has another two in December 2023.
Example – 'Bangers, Hits and a Couple New Bits'
Example has announced he will be going on tour in February 2024. The tour called 'Bangers, Hits and a Couple New Bits' will see him perform 17 gigs across the UK and Ireland.
Niall Horan – 'The Show Live On Tour' 2024
Niall has now announced dates for 'The Show Live On Tour' for 2024. The dates include several dates in the UK, from February-March, as part of a bigger world tour next year.
James Arthur – 'Bitter Sweet Love' tour
James Arthur's 'Bitter Sweet Love' tour will see the artist perform eight UK dates as part of a wider world tour. He starts the UK leg of his tour in Bournemouth in March 2024.
Tom Walker
Tom Walker has announced several dates for his 2024 tour, in support of his second album 'I Am'. The album features his songs 'Burn' and 'Freaking Out.
Paloma Faith
Paloma Faith has announced a huge 26-date tour for Spring 2024. The 'Can't Rely On You' singer will head out in April 2024 in Reading and finish up in June 2024 in Lincoln.
Tate McRae
Tate McRae has announced her 'Think Later' tour, in support of her second album due out in December 2023. The singer will perform at several dates across the UK.
Jonas Brothers 2024
Nick, Kevin and Joe Jonas, otherwise known as the Jonas Brothers, will play four UK dates in June 2024, in Manchester, London, Birmingham and Glasgow.
P!nk
P!nk is bringing her 'Summer Carnival Tour' back to the UK for 2024. The singer will be supported by The Script, Gayle and DJ and producer KidCutUp. Her tour takes place throughout June 2024.
Anne-Marie
Anne-Marie has announced a continuation of her 'Unhealthy Club' tour. This new summer tour will see the singer performing at festivals and other outdoor locations. Her summer tour will take place in June and July 2024.
Taylor Swift – 'The Eras Tour' 2024
Taylor Swift has now announced several UK dates for her 'Eras' tour. The singer will be coming to Liverpool, Edinburgh, Cardiff and London in June and August 2024.
Tom Grennan – Gunnersbury Park
Tom Grennan has announced his biggest headline gig ever at Gunnersbury Park, London on Saturday 10th August 2024. Tickets will go on sale at 9am on Friday 8th September.
Jess Glynne – 'Summer 2024'
Jess Glynne has announced outdoor dates for summer 2024. The singer will start in June 2024 in Scarborough and perform across England and Wales, finishing in London in August.
Zara Larsson – 'The Venus Tour'
Zara Larsson is set to embark on 'The Venus Tour' in February 2024. Zara will be visiting Manchester, Glasgow, Birmingham and London on the tour.
Becky Hill – Arena tour 2024
Becky Hill has announced nine UK dates for her first arena tour in 2024. They take place in October 2024.
Now read:
Tickets for Anne-Marie's 'The Unhealthy Club Tour' are on sale now
Anne-Marie releases third album 'Unhealthy'
Anne-Marie: Everything you need to know about the 'Unhealthy' singer
How to listen to heat radio:
If your favourite music icons are the Spice Girls and your favourite Ks are Kylie and the Kardashians, you need heat Radio in your life! heat Radio is portable, so you can listen to us on the move. Simply download our app from your phone's app store, on Freeview Channel 716 or online at heatradio.com and at heatworld.com. We're on all the smart speakers too, just say "play heat Radio".