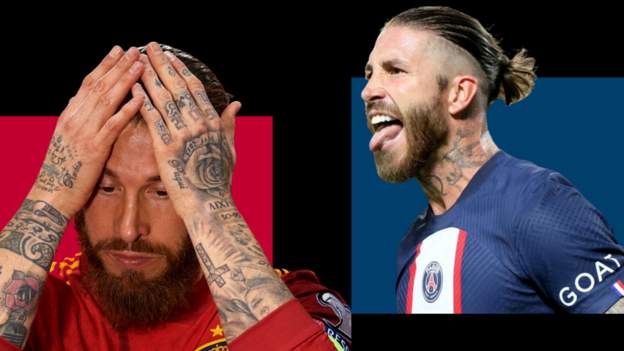 At the age of 36 with 180 caps, a World Cup, two European Championships, four Champions Leagues, five La Ligas and one Ligue 1 title most footballers would be happy to enjoy retirement sitting in their luxurious home.
But then Sergio Ramos is far from your average multimillionaire footballer.
When announced as 'Best Defender of all Time' at the Globe Soccer Awards in December the Spaniard said: "I still have many dreams and goals to fulfil."
He has already ended his international career though after being told by new Spain head coach Luis de la Fuente that he doesn't figure in the national side's plans and his future at Paris St-Germain looks increasingly uncertain.
So what next for one of the modern game's most decorated players?
A bitter parting with Spain
Many thought ex-Spain manager Luis Enrique would end Ramos' international career but, although Enrique did not take him to the Qatar World Cup, it was De la Fuente who finally told him it was over.
The coach called him on a Thursday around 13:00 to break the news to him. Many in the Spanish Football Federation (RFEF) believe that Ramos' influence has not always been positive and De la Fuente wanted to start with a clean slate.
Ramos' personality meant that he was never going to go quietly.
Five hours after an "amicable" chat with the new coach, Ramos wrote on social media: "With much regret, it is the end of a journey that I hoped would be longer and that ends with a better taste in the mouth, on a par with all the successes we have achieved with La Roja."
Aided and abetted by some influential sectors of the sporting media that have always backed Ramos, he added: "In all humility this was a journey that deserved to end because of my personal decision or because my performances were not at the required level, rather than being a question of age or for other reasons that I might have not heard, but I have felt."
The Spanish federation's reaction to his comments were predictable. "You could see it coming. Elegance was never his forte," someone close to the top said.
Their suspicion is that Ramos' statement was part of his plan to pour cold water on the new Spain project even before it has got off the ground.
The Sevillian centre-back has not played a match with Spain since March 2021, when he played for four minutes against Kosovo simply to add a 180th appearance to his already record total.
Injury would keep him out of that summer's European Championship and he was never called up again, despite a lot of pressure to bring him back.
A first season at PSG hampered by injury in 2021-22 did not help his case either, but it is unfortunate that the bitterness surrounding his departure is gaining more attention than the glories he achieved during a stellar 16-year career with his national side.
Hotels, injury and learning English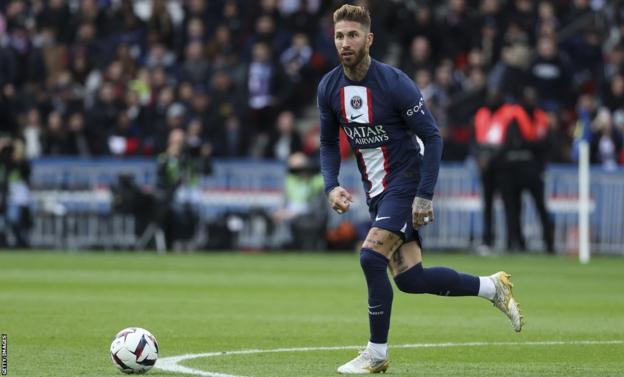 Ramos arrived at PSG with a point to prove last season after a long and acrimonious battle with Real Madrid president Florentino Perez.
While Perez had in the past used the power and influence of both Ramos and Cristiano Ronaldo in the dressing room to his own advantage, the disproportionate influence that the centre-back wielded meant that, as his contract was coming to an end, Perez was keen to be rid of him.
In the end an operation on his left knee in February 2021 meant he left Real Madrid with a whimper, joining PSG in July of that year only to suffer muscle injuries until March 2022 that restricted him to just 13 appearances in that campaign.
Despite in December 2021 reassuring those in a WhatsApp group shared by fellow world champions and friends that "I'm in the recovery process, it's going well", the truth was that he was not in a good place.
The endless chain of muscle injuries that had kept him off the pitch combined with the acrimonious split from the club he had given everything to for the past 16 years was having an effect.
His first days in Paris had been spent in the luxurious goldfish bowl that is the Le Royal Monceau hotel, where Lionel Messi also stayed a month later after signing with PSG. It is where PSG's new stars stay before they find a house, but it is inconvenient because of the constant crowds of fans and tourists waiting for them at the door.
Eventually Ramos was 'rescued' from there by team-mate and close friend, Costa Rica goalkeeper Keylor Navas, who welcomed him into his home while Ramos' wife, Pilar Rubio, and their four children moved back to Madrid.
The search for a home was not easy. Accustomed to the closed and secure environment of their house in La Moraleja in Madrid their biggest concern was about the safety of their family.
They could not find anything similar in the French capital, and in the end they decided on a house in a town to the west of the city.
There he moved the hyperbaric chamber that he has been using for years to improve physical recovery. He also installed a complete gym, where he has spent many hours to complement the work at the club and regain fitness after each relapse.
He used his time to indulge in his latest hobby as an artist, which he began as part of a plan to offset the adrenaline that would not let him sleep after games, and has moved his oil paintings and other canvases to his Paris home. "I paint to disconnect, to escape. And I seek to rediscover myself with moments of solitude," he explains.
He also takes daily English classes and somewhat less frequently, French. Almost everyone speaks Spanish in the PSG dugout, so the need to learn the local language does not feel as urgent.
He is now playing alongside Messi but, while they certainly enjoy a highly professional and respectful working relationship it would be stretching the point to say they were friends. That said, their children mingle with each other more since their private boxes at Parc des Princes are located next to each other.
But if his first season was a failure then things are certainly looking up this campaign, during which he has played 34 games in all competitions.
Reunited with Ronaldo?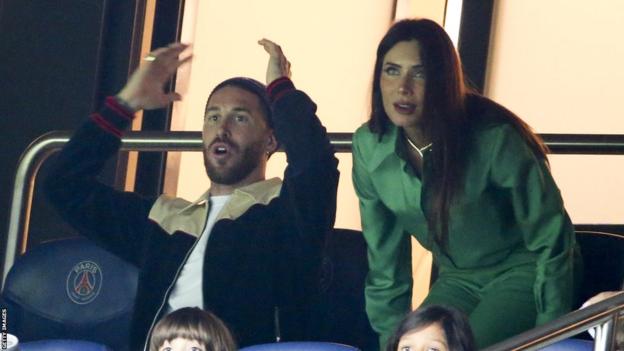 Football is far from being Ramos' only passion. Together with his wife Pilar who, as a journalist and television presenter, is probably as famous as he is, they share a passion for rock music, collecting art and the good life.
He has eyes on pursuing a career with his own artworks and, although he only currently shows off his own creations on rare occasions, he does, according to a Spanish TV station, use a secret Instagram account to showcase his work.
He has also made no secret of the fact that his aim is to build one of the most important art collections in Spain.
Ramos' contract with PSG will end on 30 June with many believing that his next move will place him in Saudi Arabia at Al Nassr, alongside Ronaldo.
But he still wants to continue at the highest level for as long as he can and, even when the time comes for him to step down from the elite, moving to Saudi Arabia would not be a priority.
Unfortunately for him the PSG board is very reluctant to extend his contract and already have an agreement to sign a new central defender.
Lacklustre performances like PSG's recent 2-1 defeat in the French Cup by Marseille have not aided his cause.
The French press were quick to criticise not just him but also the likes of Neymar and Messi for their performances, but it was his foul that resulted in the penalty that led to Marseille's first goal. L'Equipe scored him four out of 10.
The French sports paper wrote: "When his back is caught, he has difficulties, as in the penalty against [Cengiz] Under. He redeemed himself with a headed goal before the break and equalised, but he was offside."
According to broadcaster RMC Sport negotiations are currently very much on the backburner with the club showing a definite reluctance to renew his deal, preferring instead to opt for Marquinhos, a direct rival to Ramos as an automatic starter.
Furthermore talk is rife about the possible arrival of Inter Milan centre-back Milan Skriniar, who will be out of contract at the end of the season and, according to Italian media, has already told Inter that he will be leaving to join PSG on a free transfer.
All of which does not bode well for Ramos and many have now suggested that if Saudi Arabia is not the option for him then perhaps America's MLS might well be his most likely destination.
The rumour mill is also talking about a potential return to La Liga, with some suggestions that his most logical next port of call should be back to his beloved Sevilla, where he first came from and where he could be of most use, even for just a season until he moved on to the United States.
There is however one tiny fly in the ointment to what seems like a perfect plan which is the 15m euros a year he earns at PSG and no-one – Saudi Arabia apart – is ever going to be able to pay him that sort of money.