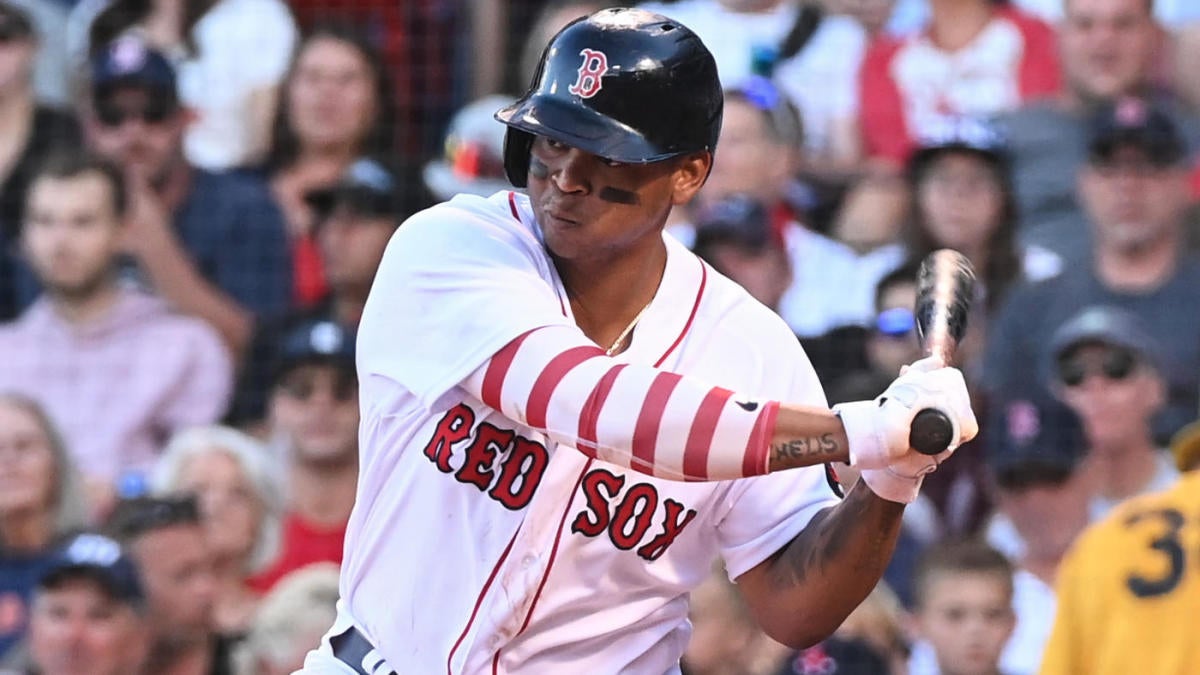 As someone who works in the industry, the biggest tell tale sign that baseball is on its way back is when Scott White and the Fantasy Baseball Today crew are ripping through multiple real and mock drafts per week. That time has come. And let's be honest — there is no better way to prepare yourself for your own drafts than by comparing and evaluating how the industry is drafting their teams. So today's newsletter will be all about the drafts. It's also going to be about finding this year's Julio Rodriguez and other potential league-winning picks you can make.
We have two drafts to go over — a 12-team Roto mock and Chris Towers' Tout Wars draft. Both of these drafts couldn't be anything less like the other. Towers' Tout Wars recap dives into a format that gets rid of batting average for on-base percentage, wins for innings pitched and combines saves as a saves plus holds category.
We'll wrap things up below with a little news and notes from the weekend.
H2H Roto Mock
A key takeaway to start
The theme of this draft was simple — don't wait for ADP to get your guys. In other words, if you feel like the best player available is projected by ADP to come off the board one, or two, or three rounds later — don't wait for that to come because more times than not you'll miss out. I feel like this is specifically important during the 2023 draft season because in that range where you might normally be able to get away with waiting for your guy — and drafting a boring but productive player — there are so few of those boring and productive (safe, high floor) players. 
It's also important to note that we're still fairly early in draft season and ADP can be very unreliable. Use it as more of a grain of salt than pillar in your draft strategy and you'll come away with a roster you feel much better about.
Scott discussed this concept in a more eloquent way:
From Scott: "When you're constantly drafting and immersed in ADP data, you have a clear concept of when your preferred sleepers should go, but nobody was waiting around in this one. Lars Nootbaar went 118th overall (compared to 188th by ADP), Miguel Vargas went 135th (compared to 248th), Jordan Walker went 168th (compared to 228th) and Oscar Colas went 205th (compared to 307th). I like all of those players, but I like them in part because of the discount. I hope it doesn't vanish entirely."
Scott was drafting from the No. 12 spot and had the back to back. Here's how his team played out:
Rafael Devers, 3B, Red Sox
Freddie Freeman, 1B, Dodgers
Luis Robert, OF, White Sox
J.T. Realmuto, C, Phillies
Alek Manoah, SP, Blue Jays
Teoscar Hernandez, OF, Mariners
Max Muncy, 2B/3B, Dodgers
Ryan Pressly, RP, Astros
Kenley Jansen, RP, Red Sox
Triston McKenzie, SP, Guardians
Anthony Santander, OF, Orioles
Jeremy Pena, SS, Astros
Tony Gonsolin, SP, Dodgers
Charlie Morton, SP, Braves
Ezequiel Tovar, SS, Rockies
Ketel Marte, 2B, Diamondbacks
Jose Berrios, SP, Blue Jays
Oscar Colas, OF, White Sox
Merril Kelly, SP, Diamondbacks
Miles Mikolas, SP, Cardinals
Brandon Drury, 3B/2B, Angels
Jake Fraley, OF, Reds
Joey Bart, C, Giants

My thoughts
In our last newsletter, I loved Scott's execution and final team. This one I like more than love. I think Scott himself went a bit away from what he has preached this preseason when drafting Freddie Freeman — a first baseman — at the 1/2 turn. Ultimately I felt like this left him weak in the outfield — a position as scarce as third base, second base — and maybe even scarcer.
I did like how Scott practiced what he preached and made sure to get a few of his favorite sleeper bets including Colas and Tovar. I also am on team Ketel Marte this year — a player I have no doubt will be on plenty of my rosters given his suppressed ADP after a down 2022 season.
Here are the full results for the draft.
Please check the opt-in box to acknowledge that you would like to subscribe.
Thanks for signing up!

Keep an eye on your inbox.

Sorry!

There was an error processing your subscription.

Scott's key takeaways
These were the participants so after you click the link to see the mock results make sure you follow them all on Twitter (handles below):
1) B_Don, Razzball (@RazzBDon)  
2) Frank Stampfl, CBS Sports (@Roto_Frank)  
3) Tim Kanak, Fantasy Aceball (@fantasyaceball)   
4) Mike Gianella, Baseball Prospectus (@MikeGianella)  
5) Michael Waterloo, The Athletic (@MichaelWaterloo)  
6) Tim McLeod, Prospect361
7) Chris Towers, CBS Sports (@CTowersCBS)  
8) Jake Wiener, Prospects1500 (@GatorSosa)
9) JR Fenton, TGFBI participant (@JohnRussell215)  
10) Raymond Atherton, Fantasy Aceball (@RaymondAtherton)
11) Jake Holland, formerly The Toss Up (@jakebaseball17)
12) Scott White, CBS Sports (@CBSScottWhite)
Towers' Tout Wars Draft
It's always vital to adjust your draft strategy to your league's settings and that's exactly what Chris did in his Tout Wars draft. Tout Wars isn't all that different from your typical 12-team Roto league, but there are a few different settings that make a massive difference in how you'd want to craft your roster.
It's a 12-team Rotisserie league with a few twists. We use seven of the 10 standard scoring categories, with the following changes:
Instead of batting average, we use on-base percentage.
Instead of saves, we use saves-plus-holds.
Instead of wins, we use innings pitched.
Here's how Chris' team shook out from the five hole:
| | |
| --- | --- |
| 1.5 | Mookie Betts, OF, LAD |
| 2.8 | Fernando Tatis Jr., SS, SD |
| 3.5 | Max Scherzer, P, NYM |
| 4.8 | George Springer, OF, TOR |
| 5.5 | Justin Verlander, P, NYM |
| 6.8 | Emmanuel Clase, P, CLE |
| 7.5 | Oneil Cruz, SS, PIT |
| 8.8 | Byron Buxton, OF, MIN |
| 9.5 | Salvador Perez, C, KC |
| 10.8 | Christian Walker, 1B, ARI |
| 11.5 | Jorge Polanco, MI, MIN |
| 12.8 | Nestor Cortes Jr., P, NYY |
| 13.5 | Chris Sale, P, BOS |
| 14.8 | Dustin May, P, LAD |
| 15.5 | Riley Greene, OF, DET |
| 16.8 | Jesse Winker, OF, MIL |
| 17.5 | Tyler Glasnow, P, TB |
| 18.8 | Yandy Diaz, 3B, TB |
| 19.5 | Grayson Rodriguez, P, BAL |
| 20.8 | A.J. Minter, P, ATL |
| 21.5 | Bryan De La Cruz, OF, MIA |
| 22.8 | Edward Cabrera, P, MIA |
| 23.5 | Brandon Drury, 3B, LAA |
| 24.8 | Travis d'Arnaud, C, ATL |
| 25.5 | James Karinchak, P, CLE |
| 26.8 | Oswaldo Cabrera, OF, NYY |
| 27.5 | Luis Garcia, 2B, WSH |
| 28.8 | Alex Kirilloff, OF, MIN |
| 29.5 | Spencer Steer, CI, CIN |
My thoughts
Chris took an aggressive approach in this draft with several high-ceiling investments with injury histories. And I wouldn't expect anything less from Chris, who shares a similar "if you're not first, your last" approach to Fantasy sports. Swinging for upside is our calling card and you don't need all of them to hit when you spread out the gambles across the draft. Having said that, I am concerned with his innings upside and I think his two aces could blow up his entire team if they go down with injuries.
Here's who participated in the draft along with the full results: 
Matt Trussell, Razzball
Sara Sanchez, bleedcubbieblue.com
John Laghezza, The Athletic
Jeff Boggis, Fantasy Football Empire
Chris Towers, CBS Fantasy
Andy Behrens, Yahoo Fantasy Sports
Alex Fast, Pitcher List
Brian Entrekin, Fantasy Pros, BaseballHQ
Carlos Marcano, Triple Play Fantasy
Dylan White, Baseball America
Chris Clegg, Pitcher List
Jen Piacenti, Sports Illustrated
And here are the full results of the draft.
News & notes
Astros DH Jordan Alvarez has still not progressed to swinging a bat.
Phillies 3B Alec Bohm hit his second homer of the spring and could be in line for a potential breakout if the changes he made to his launch angle can stick.
White Sox SP Mike Clevinger will not face discipline after an MLB investigation. Additionally, he's voluntarily agreed to evaluations by MLB/MLBPA joint treatment boards and will comply with their recommendations, per ESPN's Jesse Rogers.
Cardinals 3B/OF Jordan Walker hit his second and third homers of the spring. He went 4 for 4 with two homers on Saturday.  If you're listening, that's the sound of Walker's ADP screaming upwards.
Brewers SP Freddy Peralta struck out two batters over two perfect innings on Saturday.
Rangers SP Jacob deGrom is scheduled to face live hitters for the first time this spring on Wednesday.
Cubs 2B Nico Hoerner continued to hit in the leadoff spot on Saturday and he racked up one hit — an RBI triple. IF Hoerner can stick in the leadoff spot, he's an interesting middle infield sleeper.