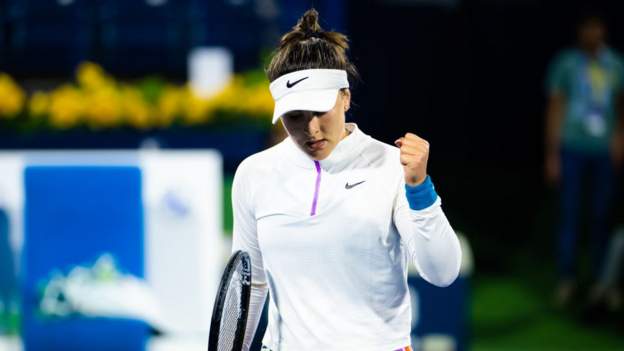 Bianca Andreescu acknowledged when she won the Indian Wells title at the age of 18 that there would not be "butterflies and rainbows every day".
There were for most of 2019, however, as she added her home tournament in Toronto and then the US Open trophy, by beating Serena Williams in the final.
But then Andreescu tore her meniscus and did not play a single match in 2020. The following year, worn down by further bad luck and the solitary existence of professional sport, her mental health suffered and she considered giving up for good.
A break from the sport in early 2022 included a retreat in Costa Rica, and 12 months on the now 22-year-old is able to say with a smile on her face that she "loves being back on tour, and loves the sport again".
"I definitely don't feel like I have the perfect recipe," Andreescu says while preparing for the BNP Paribas Open at Indian Wells, which starts on Wednesday.
"I'm not sure anyone really does other than maybe Novak Djokovic and Roger Federer. But I'm striving to be as close to perfect as I can be, and I feel like right now I have a pretty good recipe as I feel really good about myself.
"I'm not having the best results, but I'm not identifying myself with that.
"We have a psychologist we can see whenever we want, but I feel that at the end of the day it's also deep down in you if you want to change, if you want to get better.
"You can't really put a timeline on those things. It could take months, it could take days, it could take years.
"For me I feel it took a good two and a half years to get to this point right now and that's continuous work. If you continue to put in that work, I think it's possible to get back to that level."
Andreescu was one of the 72 players subjected to 14 days hard lockdown before the Australian Open of 2021 (her then coach Sylvain Bruneau had contracted Covid on the inbound flight), and was not able to play in Madrid or Rome as a result of her own positive test later in the year.
That may have been the straw which broke the camel's back – the moment she realised she had to find a solution.
"I definitely don't feel like I have the perfect recipe"
Andreescu has reached a quarter-final stage just three times since returning to the tour in Stuttgart last April. She is being careful not to over-train, given her recent catalogue of injuries, and believes injecting more enjoyment into training will also help pay dividends before long.
So you may see the world number 36 and her all French team, headed by coach Christophe Lambert, playing football or throwing an American football around at the start of a session.
"I've changed many things over the years," Andreescu continues.
"But the thing that has really stuck is my meditation routine, my visualisation exercises that I do every single day. I'll have a picture on my vision board (a tool to visually represent your goals) of me holding up every single trophy.
"That's on tour and I'll just picture myself feeling the feelings of actually winning the tournament. It really gets me motivated and hungry."
And has she has nailed social media?
"Honestly, I think I have at this point. I'm very good at not looking at my comments or my requested messages," she said.
"Sometimes these things pop up and I'll see a negative comment here or there and I know it's easier said than done, but I just think to myself what does this person know about me, what does this person know about being a professional player?
"Sometimes it does get to me, but I'm pretty good at letting it go. I'm trying to be good in my own skin without hearing other people's opinions."
Andreescu has not won a tournament at any level since her victory at the US Open in September 2019. But as she prepares for Indian Wells, and a potential third-round meeting with world number one Iga Swiatek, the desire to win another Grand Slam seems as strong as ever.
"I definitely feel like the hunger is there," she says.
"And once you taste it, you want to taste it again. I'm really looking forward to having that taste one more time."