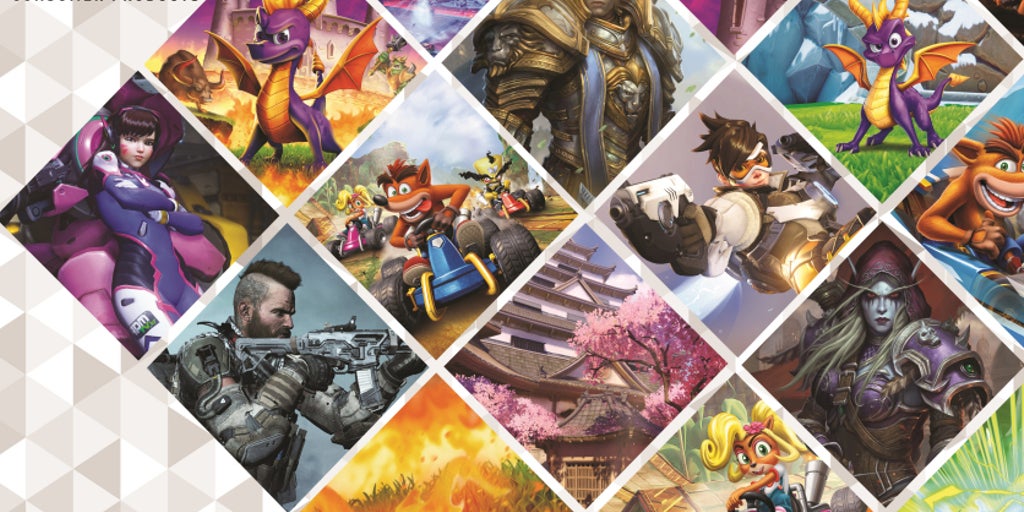 Sign up for the GI Daily here to get the biggest news straight to your inbox

Microsoft has responded to the remedies suggested by the UK's Competition and Markets Authority after the regulator said changes would be needed before it could approve the proposed acquisition of Activision Blizzard.

The Xbox platform holder has detailed its own solutions, some of which are built around suggestions it has made throughout this process, claiming that these will address all of the regulator's concerns.
Sony's response to the CMA's proposed remedies has also been released, agreeing with the regulator's suggestions, expressing scepticism that Microsoft could reach an agreement that would address all concerns, and once again calling for the proposed acquisition to be blocked.

A significant portion of Microsoft's 33-page response objects to the CMA's suggestion that some of Activision Blizzard's businesses and properties be divested before the merger goes through.

Microsoft reiterated that these would be inappropriate, and that even a partial divestment would be "highly uncertain and impracticable."

The company said that, far from protecting competition, a divestment would actually have "severe adverse effects" in the games space because it would prevent Microsoft from "achieving its key strategic objective – namely building a mobile gaming business with sufficient scale in order to challenge Google and Apple."

This is because divesting the Activision segment of the business, as the CMA suggested, would see Microsoft lose access to Call of Duty Mobile and the upcoming Warzone Mobile, as well as other key Blizzard mobile games such as Diablo Immortal, Hearthstone and the currently-in-beta Warcraft Arclight Rumble.
"A divestment preserves the status quo and harms Xbox and PC gamers"Microsoft

The company claims divestment would mean Xbox and PC would lose out on exclusive Call of Duty content, since this would presumably be available to PlayStation, and mean Microsoft is unable to reap the benefits of Call of Duty on Nintendo platforms, or any Activision content on Game Pass.

"A divestment preserves the status quo and harms Xbox and PC gamers," the company continued. "As such, if the CMA expects that Sony will be 'significantly weakened' by partial exclusivity, the CMA must equally acknowledge that Microsoft is 'significantly weakened' by the status quo arrangements, which would be preserved by a divestment."

Microsoft also said divestment would be a "wholly disproportionate" remedy to concerns around the impact its ownership of Activision Blizzard could have on the cloud gaming space given the current size of that market.

Instead, Microsoft proposed two licensing remedies it believes will satisfy the CMA's concerns about how a MS/ABK merger could impact competition.

The first centred around content licensing, with Microsoft repeating its promises of a ten-year deal with Sony to have all Call of Duty games made available for PlayStation platforms, including the option for inclusion on Sony's subscription and cloud gaming services.

It insisted there would be "parity of quality and playability of [Call of Duty] between PlayStation and Xbox."

Microsoft also pointed once more to the deal signed with Nintendo to bring Call of Duty to its platforms for ten years.

The company stressed that the terms of its remedy and its deals would ensure Call of Duty would be in no way exclusive to Xbox (including timed exclusivity or the release of exclusive content) for at least ten years.

For concerns over the cloud gaming and subscription spaces, Microsoft proposed a similar licensing deal that would enable cloud gaming providers to gain access to Call of Duty, World of Warcraft and other games Activision Blizzard publishes on PC.

Activision's games are not currently available on any cloud gaming service. Microsoft claims its deals would enable cloud service providers to offer these titles on the same day they are released, and pledged to continue distributing Activision Blizzard games to "at least one third-party PC digital storefront" for the next ten years.

It claims these deals will address concerns that Activision's PC games could be exclusive, or even timed exclusive, to Xbox Cloud Gaming.

Microsoft also proposed the CMA appoint a monitoring trustee to check the company is being compliant with these agreements, and an independent adjudicator to resolve any disputes that might arise.

In its own 13-page response, Sony Interactive Entertainment stressed the acquisition should be "prohibited or subject to a structural remedy."
"SIE is extremely sceptical that an agreement with Microsoft could be reached, much less monitored and enforced effectively" Sony

"SIE is extremely sceptical that an agreement with Microsoft could be reached, much less monitored and enforced effectively," the company wrote.

"As a result, a behavioural commitment that was designed to form the basis of an agreement between Microsoft and SIE should not be accepted by the CMA because there is no realistic prospect of such an agreement being reached that would maintain effective competition."

Sony said that a structural divestiture could address the concerns raised by the CMA, as it "would ensure that critical Activision content, such as Call of Duty and… World of Warcraft, would remain in independent hands."

The platform holder also pointed to Microsoft's decision to make the upcoming Starfield exclusive to its Xbox ecosystem as "additional evidence of why a behavioural commitment should be approached with caution."

The CMA will release its final decision on the acquisition by April 25, 2023.

Last week, it was reported the European Commission is likely to approve Microsoft's acquisition of Activision Blizzard, despite having issued a formal antitrust warning over the deal earlier this year.

You can find out more about the regulators' concerns and the hurdles this deal faces in our extensive primer.