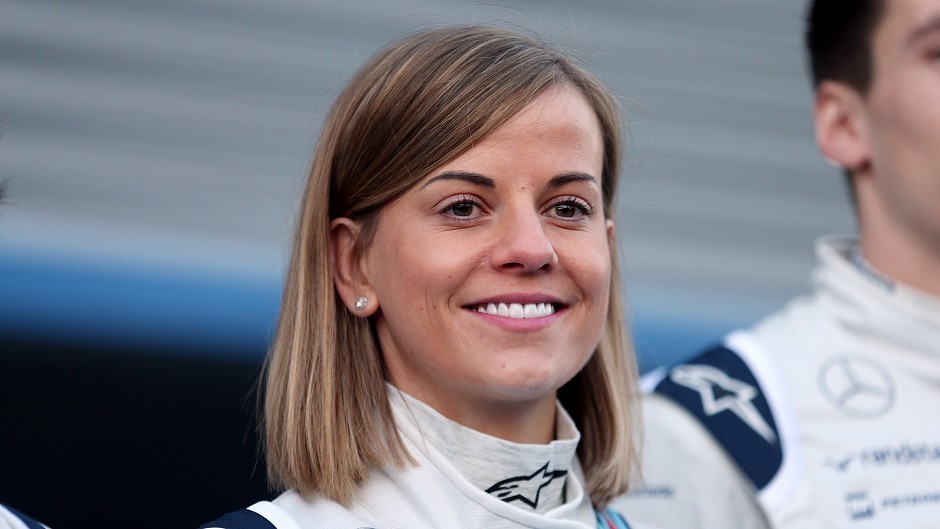 It was one of those perishingly cold January mornings in Scotland and I was waiting to talk to an up-and-coming motorsport star called Susie Stoddart at Glasgow's Queen Street station in 2003.
Within a few minutes of meeting her, two things had become clear.
Firstly, this ebullient character, who was 2o at the time, was determined to pursue her life in the fast lane all the way to the holy grail of Formula One.
But secondly, and she emphasised this with a firm click of her jaw which brooked no argument, the Scot from Oban had no interest in being viewed as a token female in the pit and paddock. Or, as she expressed it: "Once I put my helmet on, my gender is irrelevant. The only thing that matters is how I perform in the car.
"The boys don't expect special treatment. And neither should the girls."
Even if her dream from 20 years ago never quite materialised, she approached every challenge with an exhilarating enthusiasm and priceless combination of silk and steel. She graduated from karts and touring cars into the world of DTM, become an F1 test driver with the Williams team, and subsequently created a special piece of history by taking part in qualifying at the British Grand Prix at Silverstone in 2014.
So who better to become the managing director of the newly-created Formula 1 Academy, aimed at creating a pathway for women to the top of the sport, than the woman who is now married to Toto Wolff, the billionaire team principal of Mercedes, one of the most influential figures in his realm in the post-Ecclestone era?
After all, she has spent most of her career trying to demonstrate that women are able to race at the very highest level of motorsport and her history in the sport stretches all the way back to pitting herself against the likes of Lewis Hamilton on the karting circuit.
And while she appreciates there is no prospect of females vying for supremacy in the F1 fast lane any time soon, she is convinced it can happen eventually.
It is a hugely expensive business
The academy, which she will oversee, launches this year to offer young women a foothold on the motorsport ladder as they progress out of karting.
F1 will fund half an estimated £300,000 budget for every competitor, with the participants having to find the rest themselves – which may be difficult in the current economic climate.
Yet, as Wolff said with trademark candour, last week: "That jump from karting to single-seaters, if you don't have the financial means to do it from your environment, is a huge jump, and I have been through that and it was incredibly tough.
"In the short term, where we can have a positive impact is because we have the might of F1 behind us and the global network of F1.
"But then, the change to get a woman in this paddock is going to take much longer.
"However, if nobody does anything, nothing is going to change and it's going to take much longer to move the needle."
Yet, if anybody can transform the situation, Wolff is the perfect role model.
Susie in her element in the garage
In the late 1980s, you might have found a resilient little girl tinkering with machinery and becoming fascinated with the minutiae of motoring in the family garage. At weekends, she would venture to all manner of tracks across the country and it soon grew obvious that Susie possessed her own panache, personality and va va voom.
As she told me a few years back: "I got my first motorbike when I was two and a kart when I was eight. My parents [John and Sally] have a motorbike shop in Oban, so I like to think racing is in my blood, as well as being my passion.
"I will always be thankful for the support and encouragement from my parents growing up, because they led me to believe I could do anything if I worked hard and was determined enough.
"My advice (to young females) would be to find your passion, find something you love doing, push out of your comfort zone and give it your all.
"That goes for women of all ages at every stage of their life: whether it's girls looking to get into sport for the first time, or mothers, granddaughters or sisters of young girls… always encourage them to find their passion and go for it!"
Women can compete with men – but involvement can't just be 'gimmick'
She can't remotely be described as the big bad Wolff, but this is one tough cookie with a central tenet: she will never be interested in tokenistic gestures.
As she told me: "Motorsport isn't like tennis or football, where there are separate leagues and competitions for men and women. Once you climb into the vehicle, it is simply about how you perform as a driver and what you can do for your team.
"It's not easy: you have to give it everything you've got. And even if you have all the talent in the world, it's expensive.
"However, if you succeed, it has to be 100% on merit and not just a gimmick."
There are no short cuts. But the Scot is in it for the long haul.
Already a subscriber? Sign in
[Neil Drysdale: If anybody can bring women through to Formula One, it's Scotland's Susie Wolff]
[[text]]