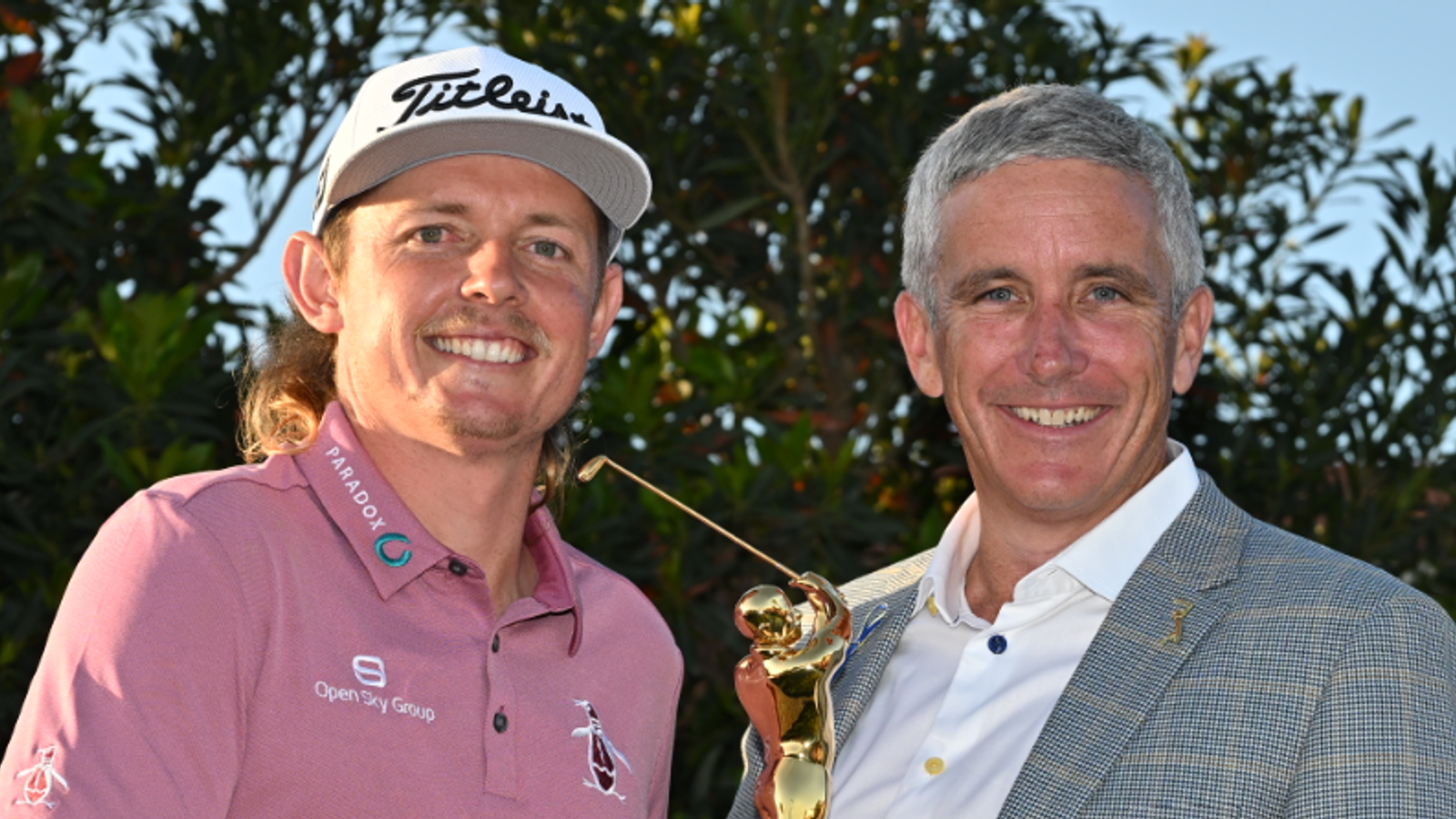 Forty-three of world's top 50 are set to feature at The Players, where Jon Rahm, Scottie Scheffler and Rory McIlroy all fight for the world No 1 spot; Defending champion Cameron Smith ineligible after joining LIV Golf; Watch opening round live on Thursday from 11.30am on Sky Sports Golf
By Ali Stafford at TPC Sawgrass
Last Updated: 08/03/23 6:11am
Rory McIlroy, Jon Rahm and PGA Tour commissioner Jay Monahan discuss the fact that Cameron Smith is unable to defend his Players Championship title due to his ties with LIV Golf.

Rory McIlroy, Jon Rahm and PGA Tour commissioner Jay Monahan discuss the fact that Cameron Smith is unable to defend his Players Championship title due to his ties with LIV Golf.
The Players is without its defending champion this week, with Rory McIlroy and Jon Rahm both admitting that Cameron Smith's absence is noticeable at TPC Sawgrass.
Smith is just the fourth Players champion to miss his title defence and the first for non-injury reasons, with the Australian ineligible after joining the Saudi-backed LIV circuit after the conclusion of last season's FedExCup playoffs.
The defending champion lost his playing and practising privileges at TPC Sawgrass when he joined LIV Golf but his native flag still flies outside the clubhouse this week to acknowledge him as defending champion, while the world's top players were all asked about Smith not featuring ahead of the PGA Tour's flagship event.
"Would it be better if the defending champion was here this week? Absolutely," McIlroy admitted in his pre-tournament press conference on Tuesday.
"He made a decision that he felt was the best thing for him, and he knew that decision was going to come with consequences. One of the consequences is right now not being able to play on the PGA Tour."
The Players Championship Live
March 8, 2023, 2:00pm
Live on
Should the defending champion be back?
Smith produced a brilliant final-round 66 to win the 2022 contest, where storms took the tournament into a fifth day, while the world No 5 could have had the chance to become the first back-to-back winner of The Players.
When asked whether Smith should be allowed to play at The Players, similar to the eligibility process at the majors for exempt players, Rahm said: "Yes and no. I feel like as defending champion you've earned a right, but we're talking about a very unique circumstance in the world of golf.
"I've always thought on these selective events that you need to qualify, CJ Cup, for example, if you were to win, you should automatically be into next year's CJ Cup to defend the tournament. That's my belief, that defending champions should always be there.
"We're talking about different circumstances right now. Some players made a choice of going to a different golf league knowing that they weren't going to be allowed to play here. Yes, this is a massive event. It is very close to major quality event, but it's still a PGA Tour event. So, with that regard, no."
The Players Championship Live
March 9, 2023, 11:30am
Live on
No defending champion 'awkward' at The Players
The initial 144-player line-up – announced on Friday – included 43 of the world's top 50 and all-but one of the current top 50 in the FedExCup standings, with PGA Tour commissioner Jay Monahan happy with the strength of the field despite Smith's absence.
"Listen, Cam Smith had a great performance in 2022," Monahan said. "He was a deserved champion. I think as I look to this week and I look at the field that we have here and the strength from top to bottom, I think when we leave here on Sunday night we're going to crown another deserving champion.
"To answer your question directly, yes, it's awkward. But you know, ultimately that's a decision he made, and we've got an unbelievable field here this week and a history and tradition that one of these 144 is going to go seek to get."
When asked whether there was an option for LIV players to return if they turned their back on the breakaway circuit, Monahan added: "For some reason I've been hearing that a lot lately. The players who are playing on that tour are contractually obliged to play on that tour so any hypotheticals are not relevant. Our position has not changed."
Watch The Players throughout the week live on Sky Sports. Live coverage begins on Tuesday with the 'Live from The Players' show at 2pm, while the opening round is live on Thursday from 11.30am on Sky Sports Golf!