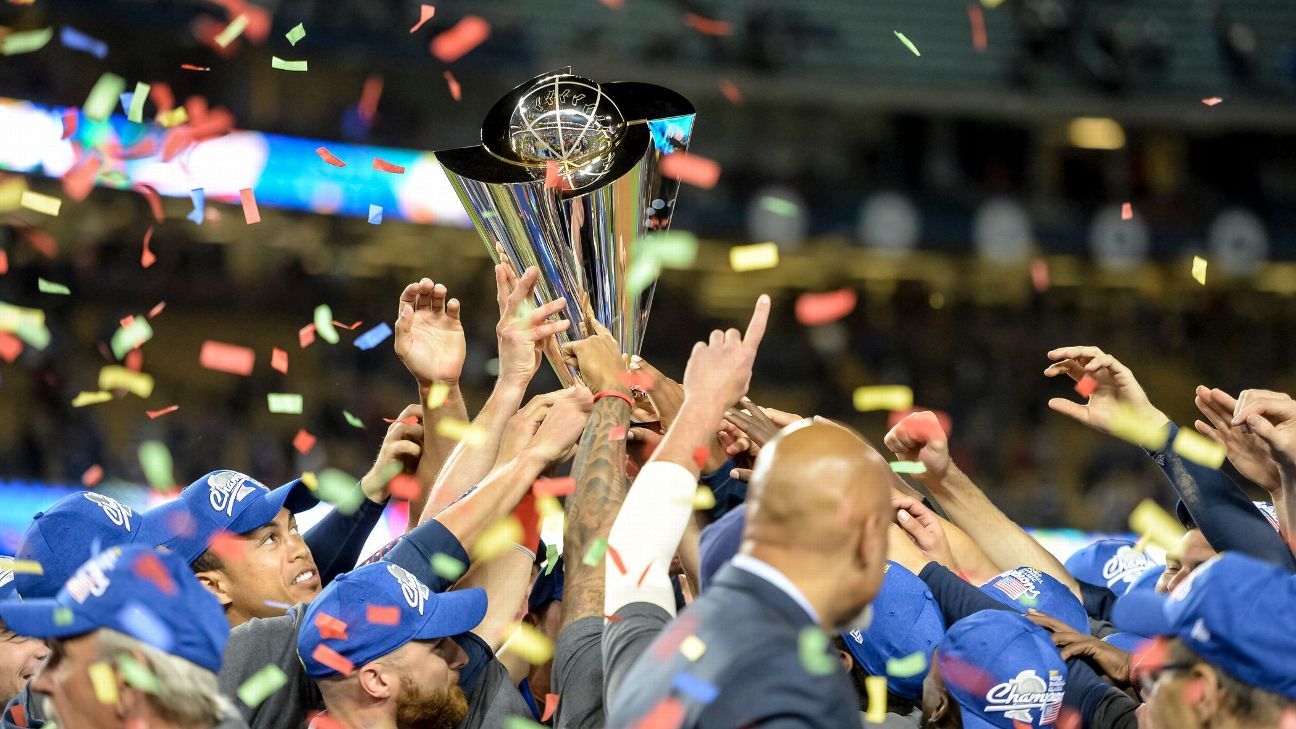 AS TEAM USA raised the World Baseball Classic trophy in 2017, Los Angeles Angels superstar Mike Trout felt the FOMO wash over him.
"It looked like they were having so much fun, making the plays and winning," said Trout, who was watching on TV from spring training camp in Tempe, Arizona. "That's what I regretted. I should have been out there."
The fourth World Baseball Classic was a milestone for the United States, the first time the event's host country won the international tournament. The Americans racked up iconic performances, from Adam Jones' home-run-robbing catch that sent the U.S. to the semifinal, to Marcus Stroman's six no-hit innings against Puerto Rico in the championship game that earned him MVP honors.
The victory also marked a sea of change in how American-born players view the event. Trout announced at the 2022 All-Star Game that he would compete in the WBC and serve as captain, and his inclusion started a domino effect.
"We don't get to share the field very often," said Los Angeles Dodgers outfielder Mookie Betts, who was influenced by Trout's decision. "So to be on the same side playing with him and all the other guys, really, it's going to be a lot of fun."
For many other American players, like Philadelphia Phillies shortstop Trea Turner, the international buzz and excitement for last year's soccer World Cup — the final drew 25.78 million viewers on Fox and Telemundo, the most watched men's World Cup match in American history — fueled a desire to put on a Team USA jersey.
"Everybody wants a taste of that," Turner said. "If you can do it in your own sport, that's pretty cool too."
That kind of excitement has long been standard on other international squads, including among MLB players. But American players have been less enthusiastic at times.
In 2017, then-New York Mets ace Noah Syndergaard showed active disdain for the event.
"Ain't nobody make it to the Hall of Fame and win the World Series playing in the WBC," Syndergaard said.
That attitude rubbed those from outside the United States the wrong way. A dozen players — three Americans and nine international — told ESPN on the condition of anonymity that the unwillingness of some American stars to participate in previous WBCs held the event back.
"Players from Japan, players from Puerto Rico, players from so many countries came out and put their best foot forward because the World Baseball Classic is important to them," said one player on Team Israel. "Many of the best American players viewed themselves as bigger than the WBC."
But there's a sense things are shifting. As usual, the biggest international stars will be attending in 2023, like Shohei Ohtani for Japan, Juan Soto for the Dominican Republic and Francisco Lindor for Puerto Rico — but there'll be 20 teams in the tournament, up from 16. Team USA has built on its championship squad of 2017, and this year it will be captained by Trout, a generational icon, with a roster featuring three MVPs — Trout, Betts and Paul Goldschmidt — and 20 All-Stars. Its starting lineup could be the best ever assembled, with 57 total All-Star Games and five MVP trophies on the roster, the most for an American team in the WBC since the inaugural event in 2006.
As the fifth WBC — delayed two years because of the COVID-19 pandemic — begins, clubhouses around baseball are buzzing. The fan excitement is peaking, too, with one Facebook group dedicated to the event featuring nearly 145,000 people from around the world dissecting the tournament.
The enthusiasm surrounding this WBC is of special interest to Major League Baseball, which has made the event a central part of its growing international ambitions. The league envisions the tournament becoming a global phenomenon like the World Cup. And with a potentially historic group of players — particularly on Team USA — the league believes the 2023 WBC will help fuel interest in Major League Baseball around the world like never before.
---
DESPITE THE FOCUS on new rules this spring to attract younger national audiences, the biggest area of growth for Major League Baseball isn't in the United States. It's in the rest of the world.
"International growth is a huge driver of our business and for our strategic goals and focus areas, that's front and center," said MLB chief operations and strategy officer Chris Marinak. "Mexico is a big market we think has shown a lot of growth potential. Asian countries, Japan, Korea, there's a number of countries we think going and making a statement in that market is super important. We think we can exploit a lot of growth opportunities in those markets."
That challenge came to the forefront for Major League Baseball in the 1990s. Baseball had become an official Olympic sport in 1992 — but with amateurs only, and it slowly fizzled before being removed entirely after the 2008 Games. That meant the league needed to find a better way to reach out.
But unlike soccer, basketball and hockey — where playing for Team USA represents one of the sport's pinnacles — international baseball never carried the same weight. Teams like the 1992 United States Olympic men's basketball Dream Team or the 1980 Miracle on Ice Olympic men's hockey team are iconic — and there is no international baseball equivalent.
MLB executives knew the spectacle of international games could draw fans.
"And we also knew there wasn't anything akin to a baseball World Cup," said MLB senior vice president Jim Small, who oversees the WBC.
By Labor Day 1999, the league offices had put together a business plan for a World Baseball Classic, greenlit by then-commissioner Bud Selig. Team owners identified the potential of the event and hopped on board, and over the next six years, MLB worked to convince other leagues, like Japan's Nippon Professional Baseball, Cuba's National Series and South Korea's KBO, to carve time into their schedules for the tournament. In 2006, the WBC launched with a 16-team field.
For MLB, the Classic represents one of the biggest opportunities for fans around the world to watch their own country's stars face off against the best from other nations. The hope is that such a high-level competition — not to mention some national pride — will get fans around the world more invested in MLB's star players — and more likely to become hooked into Major League Baseball itself.
"America is the only country in the world where the biggest sporting event is club versus club and not country versus country," Small said. "We're moving in that direction."
"With fan expectations, particularly on TikTok and Instagram, we're looking for those standout moments that you don't really see on a regular basis and that's what the WBC is," Marinak said. "We want to see the biggest stars against the biggest stars, Shohei Ohtani pitching to Mike Trout. Those are the moments the public has gravitated toward since the last WBC in 2017. It gives the game more opportunities to be displayed globally."
But after an initial wave of enthusiasm, the United States struggled, posting a 10-10 record heading into the 2017 tournament. In 2013, the event was almost invisible on its home turf, with just 843,000 watching the championship game on MLB Network, a million fewer viewers than the average regular-season NBA game in the same year. For some American players, the event offers little upside. If they win, they've done what they are expected to do. If they don't, there's potential embarrassment.
"We got to remember, this is pretty new," said Goldschmidt, who played for Team USA for the first time in 2017. "Every time we've done it, guys have gotten more comfortable with it. Hopefully, that's encouraged guys to play."
Winning is a big motivator. As the 2017 American team embarked on a thrilling path to hoisting its first World Baseball Classic title, the interest in the United States increased. The WBC received 32% more American viewership than in 2013, with 2.3 million tuned into MLB Network to watch the final. MLB executives anticipate bigger American viewing audiences for the 2023 WBC with games available on Fox.
But the tournament still faces obstacles.
Many MLB teams tolerate the event's existence, knowing that it could help grow the game, but remain concerned with its potential risk. But to many front offices, according to team sources, it doesn't justify the risk of serious injury jeopardizing a team's chance to win the World Series. That contrasts dramatically with the World Cup, where players become immortal international legends by leading their team to victory, from Pelé to Lionel Messi to Kylian Mbappe.
In some cases, that's because of the lack of standardized insurance coverage, as FIFA provides to club teams whose players participate in those competitions. Insurance coverage would protect teams from having to pay a player for time missed because of an injury from the tournament.
Miguel Cabrera was deemed uninsurable because of his injury history, but he signed to play anyway, thanks to approval by the Detroit Tigers. But Dodgers pitcher Clayton Kershaw, who was slated to pitch for Team USA, had to withdraw after he was deemed uninsurable.
"It was super disappointing," Kershaw said. "I'm frustrated. I really wanted to do it."
For a team like the Dodgers, with World Series aspirations, it's hard to justify putting a star pitcher's season at risk. But his absence helps explain why although there are more star position players suiting up for Team USA, the biggest weakness for the Americans remains pitching. For many American pitchers who are closing in on a big contract or are already being paid big money to be an ace for a World Series contender, ramping up for the World Baseball Classic is a bridge too far.
"The risk doesn't seem to matter for Sandy Alcantara or Shohei Ohtani. They have as much to lose as the next guy," said Mets reliever Adam Ottavino, who will pitch for Team USA. "But the importance of the tournament is going to have to feel super strong before you're seeing Gerrit Cole, Max Scherzer or Jacob deGrom pitching in it and willing to risk injury."
MLB has gathered injury data from four WBCs, and the league office says "there is no correlation between being hurt and playing in the WBC" but would not share the data.
A study conducted by Washington University in 2017 released days after the previous WBC determined that tournament participants missed an average of 2.35 more days because of injury after a WBC, with the numbers ticking up to 4.07 days for pitchers, working off a sample of three tournaments.
"It has the ability to be right there with the World Cup," said Boston Red Sox shortstop Enrique Hernandez, who played for Puerto Rico in 2017 and will play again in 2023. "There's no other tournament like it, and sure it takes time, but it's also been almost 20 years since the first time. So if that's not time, what's time?"
---
LATE LAST MONTH, at Red Sox camp in Fort Myers, Florida, the 2023 World Baseball Classic announced itself in the form of a trumpet blasting across the practice fields at 9 a.m.
With the first games of the WBC approaching, manager Alex Cora had assigned a bit of homework to outfielders Alex Verdugo and Jarren Duran, both of whom will represent Mexico. Cora asked Verdugo and Duran to put together a presentation, as if they were back in high school. So Verdugo crafted a poster featuring facts about Mexico, from its history of chocolate to a selection of local beers to homages to Mexican baseball legends Fernando Valenzuela and Vinny Castilla.
Next, Verdugo turned to Google, finding a mariachi band from nearby Cape Coral — called Mariachi Villa de Guadalupe — that made the early-morning trip to JetBlue Park and blasted its rendition of "Volver, Volver" by Vicente Fernández — Verdugo's walk-up song — via trumpet, fiddle and guitar. Verdugo and Duran then made their presentation to a standing ovation from their teammates.
"I was more nervous there than I was in the postseason or any type of baseball atmosphere," Verdugo said.
Cora had handed out the assignment to help his clubhouse better understand Mexican culture, but also begin to grasp the meaning of the tournament to the outside world, where it is already a hit. In 2013, the championship game peaked at 63% of all available TV viewers in the Dominican Republic and 64% of viewers in Puerto Rico, with large watch-party gatherings at movie theaters and public spaces. In Japan, 51% of all available TV viewers watched their team's semifinal loss to Puerto Rico, while one-third of all televisions viewed the country's three first-round games in Fukuoka. Taiwan registered 15.5% of viewers for a game against Japan, the highest-rated cable program in the country's history at the time.
In Japan, where 34.6% of households watched a World Cup game with Croatia last year, the WBC can be an even bigger draw than the global soccer event.
The takeaway? An international audience waiting to watch MLB's best talent already exists. This WBC is the best showcase of that talent to date, and will prove crucial for MLB's hopes to grow internationally. While not imminent, expansion into Mexico, London and even Asia are a topic in meetings.
"Before we can grow the MLB brand, we need to have the underlying sport of baseball to be more popular," Small said. "If we want to grow fan engagement and the popularity of our brand, it comes down to increasing participation, having good content to deliver, live events, big spectacles. The WBC fills that role for us in a very unique way."
While baseball initially spread internationally through American military occupation, the World Baseball Classic funds programs trying to get kids to play baseball around the world. Youth programs worldwide receive government funding to develop players to compete in the WBC, with the biggest impact felt in countries that historically have not played baseball, like China, the Czech Republic and Pakistan. According to a league source, international baseball programs have received more than $100 million in government funding because of participation in the WBC.
"That's a really important byproduct of this, it's driving more money, more resources going into the game that we won't necessarily see for many, many years," Small said. "But it's going to have a cumulative effect. Smaller countries will have better baseball programs because of this."
That government funding provides crucial backing for countries in the early stages of developing baseball infrastructure. For the United Kingdom — which had around 10,000 children playing baseball in some form in 2022 — the sport receives funding from Sport England, part of the Department for Digital, Culture, Media and Sport, and UK Sport, a government agency that invests in Olympic sports.
Great Britain general manager Liam Carroll, who will be the manager of the Red Sox's Single-A affiliate in Salem, Virginia, hopes that the growing baseball infrastructure will eventually develop a team that can surprise the world like Croatia did at last year's World Cup, stunning the world by finishing in third place and beating powerhouses like Brazil. The Czech Republic has already made a splash just by qualifying for its first WBC, beating a Spain squad full of Caribbean talent, and featuring players with full-time jobs like firefighting, real estate and teaching. They will now go up against Ohtani and Japan in Pool B.
Carroll said without the government funding due to a marquee international baseball event like the WBC, growing baseball would be difficult in the United Kingdom.
"I'm hoping we can inspire coaches, and then from here, we can develop a player who makes it to the major leagues," Carroll said. "That would inspire a generation."
The league has already found success with The Netherlands. Countries like Curacao and Aruba have grown their baseball programs because of funding from the WBC and Little League World Series and developed major leaguers such as Xander Bogaerts, Jurickson Profar and Didi Gregorius. The success has created a domino effect, with players like Gregorius and his family's foundation now building fields to further develop young players and create more game opportunities.
"I used to play 20-something games during the season even though it's sunny and 80 degrees all year in Curacao," Gregorius said. "Funding and creating fields for more games will help set up more young players to succeed once they sign."
The goal is for more countries to compete in the WBC with a baseball-informed fanbase ready to put its full support behind its national team. To find an example of how a country can rally around the World Baseball Classic, Team USA doesn't need to look beyond its borders. For Puerto Rico, the WBC represents a pinnacle of sports and as a result, players and fans treat the event with reverence.
During the 2017 World Baseball Classic, all members of Team Puerto Rico dyed their hair blond. The trend caught on back on the island, where bleach and gold hairspray sold out most everywhere. When Puerto Rico made it to the championship game, 70% of televisions on the island were tuned in.
"For us Latin American countries, there's nothing better than representing our country," Hernandez said. "It's an even bigger deal than being on a big league roster."
Mets closer Edwin Diaz will represent Puerto Rico after signing a five-year, $102 million deal this offseason, the richest contract ever for a reliever. There is concern within the Mets' organization that Diaz will pitch on back-to-back days in the WBC, something the team does not want ahead of the 2023 season. Diaz says he does not plan to do that, but he said he has no hesitation about representing his home in the WBC, regardless of the Mets' World Series aspirations or his new contract.
"This is the most waited-for event in Puerto Rico," Diaz said. "Everyone is always waiting for the WBC. People already started dying their hair blond. Everybody is ready to go."
Lindor said the increased level of talent in the WBC makes him as excited as he's ever been for the tournament. Seeing the United States bring out its best drives other teams in the WBC.
"It's the sickest tournament ever," the Mets shortstop said. "We've got to take care of business."
Across the Mets locker room, first baseman Pete Alonso will represent the United States in the WBC, meaning one of the MLB's best sluggers and Diaz, arguably its top reliever, could face off in a showdown that could not happen in the regular season. For Diaz, the opportunity to shut down a teammate is just as exciting.
"I told Pete, if I face you guys, you will not have a chance with me," Diaz said. "America, this team's so much better than the last one. I want to face them."
And while Lindor is excited about players like Trout and Betts deciding to play in the tournament this year, he thinks the potential for the sport to bring people together is what matters most.
"There are two things that unite the world. Music and sports," Lindor said. "You don't need to speak the language. We have an opportunity right now, so if we could unite the world through sports, f—, let's do it."