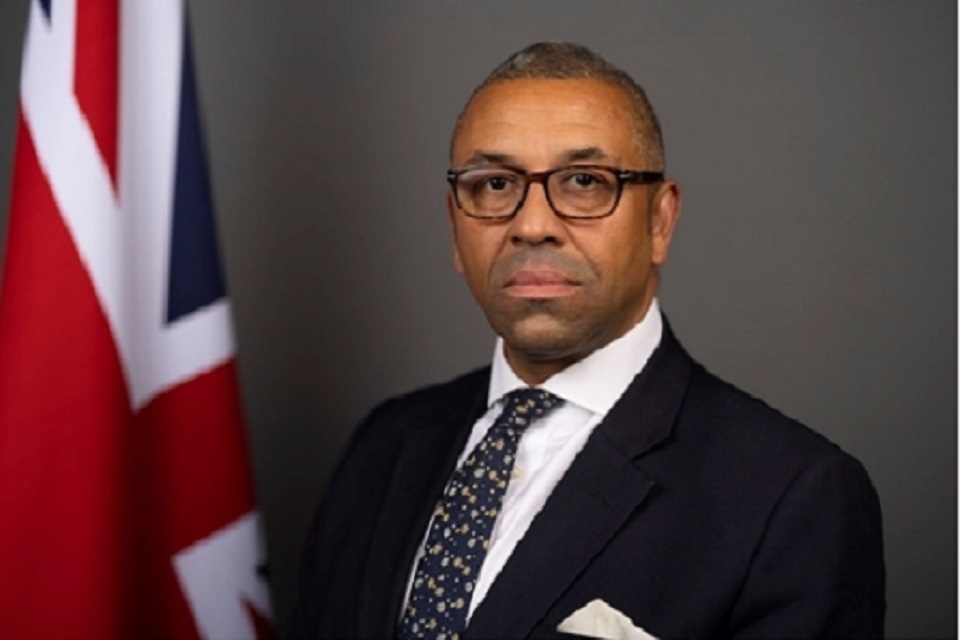 Foreign Secretary announces sanctions on International Women's Day targeting gender-based violence in Iran, Syria, South Sudan and the Central African Republic
it follows the launch of a new Foreign, Commonwealth and Development Office (FCDO) Women and Girls Strategy which sets out plans to tackle gender inequality across the globe
he is currently on a visit to Sierra Leone where he is meeting women MPs instrumental in passing landmark reforms to support gender equality and women's empowerment
Foreign Secretary James Cleverly has today (8 March) announced a new package of sanctions aimed at human rights violators, particularly those who target women and girls.
This package includes 4 individuals and 1 entity involved in grievous activities, including military figures who have overseen rape and other forms of gender-based violence in conflicts in Syria, South Sudan and the Central African Republic. It also sanctions government institutions in Iran responsible for enforcing mandatory dress codes for women in Iran with unreasonable force.
The tough sanctions were announced after the Foreign, Commonwealth and Development Office earlier launched a new strategy which aims to tackle increasing threats to gender equality, from conflict to humanitarian crises to climate change.
Foreign Secretary James Cleverly said:
Promoting gender equality brings freedom, boosts prosperity and trade, and strengthens the security of us all. However, hard-won gains on gender equality are under increasing threat.

These sanctions send a clear message that the perpetrators of abhorrent gender-based violence must be held accountable.

We are increasing our efforts to stand up for women and girls, and will use all the tools at our disposal to tackle the inequalities which remain.
Those sanctioned today are:
Major General James Nando, who commanded the South Sudan People's Defence Forces, perpetrators of sexual and gender-based violence in Tambura County in 2021
Mahamat Salleh Adoum Kette, in Central Africa Republic (CAR), who has overseen rape and other forms of sexual and gender-based violence committed by Front Populaire pour la Renaissance de la Centrafrique (FPRC) and Coalition of Patriots for Change (CPC) fighters
Amjad Youssef, a member in '227 Region Branch', who has been involved in repressing the civilian population in Syria, including through systematic rape and killing of civilians
the Headquarters for Enjoining Right and Forbidding Evil in Iran, and its head official Seyyed Mohammed Saleh Hashemi Golpayegani, who have been responsible for the enforcement of mandatory dress codes for women with unreasonable force
The Foreign Secretary is currently in Sierra Leone launching the FCDO's first Women and Girls Strategy, which puts the rights of women and girls at the heart of everything the department does.
He has been visiting his mother's hometown of Bo to see how UK-funded projects are helping women and girls. He is today visiting a Special Care Baby Unit at the Bo Government Hospital, where UK support is improving blood banks and equipment, increasing electricity access, supporting patients' health and safety and saving the lives of pregnant women.
At a secondary school he was able to hear from schoolgirls about their aspirations for the future. The UK is supporting and empowering girls to understand their sexual and reproductive rights.
This afternoon he will meet members of a cross-party group of women MPs in Sierra Leone who have been instrumental in delivering legislation in support of women's empowerment. Together they have successfully supported the passing of a landmark Gender Equality and Women's Empowerment Bill, after over 12 years of advocacy from civil society groups.
Separately, Lord Tariq Ahmad of Wimbledon, the Prime Minister's Special Representative on Preventing Sexual Violence, is in New York meeting members of a new international alliance set up by the UK to drive action on preventing sexual violence in conflict, which is convening for the first time today.
He will announce that the UK is committing a further £430,000 to the International Criminal Court's Trust Fund for Victims. He will be joined virtually by the First Lady of Ukraine, Olena Zelenska, who welcoming the alliance said:
I am grateful to the United Kingdom for the initiative to create the International Alliance to Prevent Sexual Violence in Conflict. We have high hopes for the newly created Alliance. If war crimes are committed somewhere, they are crimes against all of humanity, against human rights, against the rules of international coexistence. It is only together that we can fight for this.
Background
the UK government's sanctions today build on a similar wave of sanctions in December 2022, which included 18 designations targeting individuals involved in violations and abuses of human rights, 6 of whom were perpetrators responsible for conflict-related sexual violence and related crimes
photography from the Foreign Secretary's visit to Sierra Leone is on UK government Flickr
the individuals sanctioned today are subject to an asset freeze and travel ban. The entity is subject to an asset freeze

an asset freeze prevents any UK citizen, or any business in the UK, from dealing with any funds or economic resources which are owned, held or controlled by the designated person
a travel ban means that the designated person must be refused leave to enter or to remain in the United Kingdom

the International Criminal Court's Trust Fund provides victims with financial reparations as well as help with their physical and psychological rehabilitation. It also helps provide access to education and with finding paid work
read the FCDO's International Women and Girls Strategy
read a separate press release on the strategy