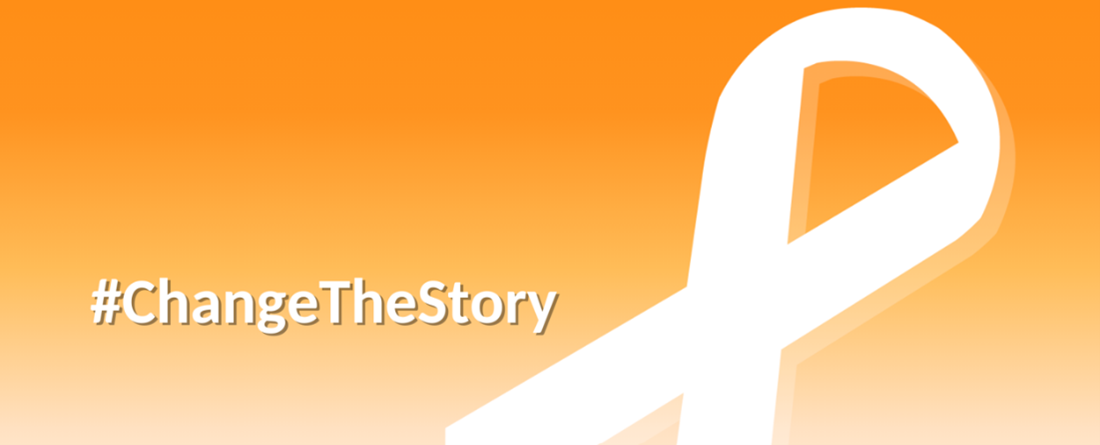 St Albans City and District Council is supporting White Ribbon Day and Orange the World – global campaigns to end male violence against women.
The Council will be running a Charter Market stall on White Ribbon Day, Saturday 25 November, to raise awareness about the event and provide information.
To support the UN's Orange the World initiative, St Albans Museum + Gallery will be lit up in the campaign colour on Monday 27 November.
Principal Community Protection Officer Neil Kieran, who has become one of White Ribbon UK's Ambassadors, will be at the Market stall. 
St Albans Mayor, Councillor Anthony Rowlands, and the City's MP, Daisy Cooper, will both be present for a short period while the stall is running between 10am and 2pm.
Everyone is welcome to come along and hear about the White Ribbon charity and its work in the UK to change harmful attitudes. 
St Albans BID (Business Improvement District) is supporting the stall and has paid for publicity material.
The Council signed the White Ribbon pledge last year, making a commitment to tackle violence against women and girls.
It has also gained White Ribbon status and ensures women across the District who experience violence know that help is available.
The White Ribbon campaign targets men specifically with the goal that they will not remain silent about or excuse violence and harassment towards women and girls.
Amanda Foley, the Council's Chief Executive, said:
I urge everyone who wants to hear about White Ribbon Day to come along to our Charter Market stall.

This is an example of the work we do to campaign for an end to violence against women and girls and to bring about a significant change in attitudes.

Residents can mark White Ribbon Day by going online and taking the White Ribbon promise as tens of thousands have done while organisations can follow our example and apply for White Ribbon status.
St Albans BID Quote
Vivien Canon, St Albans BID manager, said:
The point of the White Ribbon awareness campaign for the BID is to highlight an apparent growth in abusive patterns of behaviours presented by men against women. 

From the rude, lurid suggestion made in 'jest' to a female retail service assistant, to the outright physical harm of a hard shove to get them out of the way, this behaviour does not show respect or a value of women. 

If such behaviours remain unchallenged, a man may not realise the negative impact he has. This isn't a blame game, unless justified, rather it is a call to action.

BID encourages you to look at the campaign site which offers practical information on how to raise issues and positively intervene. It will often be a man's male friends who can best point out unacceptable behaviour. 

It will be male colleagues who will need to set the acceptable scene within the business environment. The aim of the White Ribbon campaign is to stop violence before it starts.
Orange the World
St Albans Museum + Gallery will be lit up in orange on Monday 27 November at 5pm for 16 days.
This is in support of the Orange the World campaign with the colour symbolising a brighter future free of violence.
The St Albans and District branch of Soroptimist International, a global women's organisation, asked the Council for this to be done.
St Albans Mayor, Cllr Rowlands, is due to attend this event along with the Lord Bishop of St Albans, Alan Smith, and the High Sheriff of Hertfordshire, Liz Green.
The Council's Chief Executive said: 
Lighting up the Museum in this way is a further demonstration of our commitment to the cause of ending male violence.

This is a separate campaign to White Ribbon but is for the same cause and we are proud to support it.
While the Museum is lit up in this way, there will be 16 days of activism across the country aimed at ending gender-based violence.
People will be encouraged to wear something orange while events include the lighting up in orange of Hertfordshire County Council's main offices in Hertford on Thursday 30 November.
St Albans Soroptimist International Quote
Denise Powell, St Albans Soroptimist Lead for the campaign, said:
We are grateful again for the support of St Albans Museum + Gallery – joining the Orange the World campaign and turning the building orange since 2020!

Orange is chosen for this campaign as a bright colour to shine a light on the scourge of violence against women and girls and also as a beacon of hope for a future free from such violence. 

It's great to link up with White Ribbon in St Albans because Soroptimist International has the same aim – a world where all forms of abuse against women and girls is eliminated.
Further Information
You can find out more about White Ribbon UK and take their promise here: https://www.whiteribbon.org.uk/.
For more information about the St Albans District branch of Soroptimist International and their Orange the World campaign go to: https://sigbi.org/st-albans-and-district/2023/orange23/ . An information pack and posters are available to download.
The branch would like to hear from anyone in the District who organises an orange event. They should contact sistalbans@hotmail.com and share on social media with #orangetheworldherts. The social media handle for the St Albans branch on X, Facebook and Instagram is @sistalbans.
Contact for the media: John McJannet, Principal Communications Officer: 01727-819533,  john.mcjannet@stalbans.gov.uk.