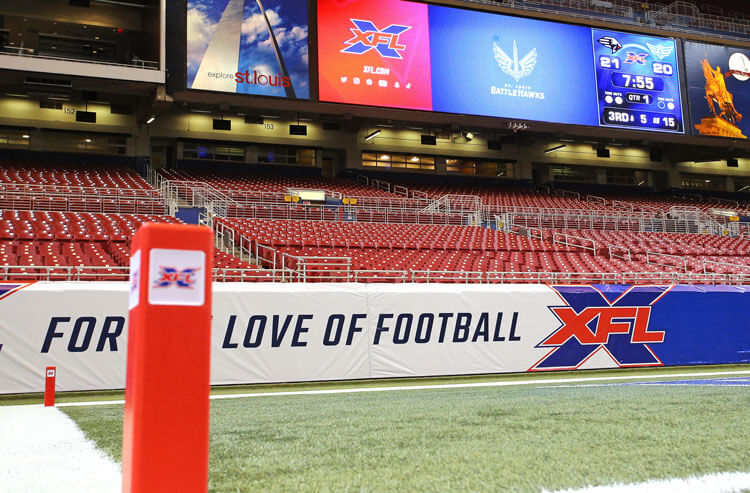 The XFL is back — back again. After stints in the early 2000s and in 2020 went awry, the league hopes a third effort will result in a more successful, lasting product. 
There's certainly star power this time around — from an ownership standpoint, at least. XFL co-owner Dwayne "The Rock" Johnson is the biggest of all, while former NFL standouts like Josh Gordon, Martavis Bryant, and Vic Beasley are ready for another chance. 
Coaching-wise, there's a former NFL Coach of the Year (Jim Haslett) on board, along with intriguing newcomers to the profession like Hines Ward and Rod Woodson. 
Check out our 2023 XFL season preview, along with some of our favorite bets in the XFL Championship odds.
Best XFL bonuses
Looking to bet on some XFL action? Here are two of the best bonuses* available:
A) New users at FanDuel can get a no-sweat first bet up to $,1000 ! Sign Up Now
B) New users at DraftKings can bet $5 and get $200 in bonus bets! Sign Up Now
*Eligible USA locations only. Also, check out our full list of best NFL betting sites for 2023.
21+. Gambling Problem? Call 1-800-GAMBLER
XFL team-by-team breakdown
Arlington Renegades
Let's get straight to the good stuff, shall we? Arlington figures to be one of the better teams in the league and is the current betting favorite (+430 at FanDuel) to win the 2023 XFL Championship. 
The odds are admittedly condensed — no team has longer than +900 odds — as a sign that this is a new league full of largely unfamiliar faces. While it's hard to have too much confidence in any side, the Renegades are a standout favorite as the season is set to begin. 
The Renegades have the advantage of being the hometown team, as the league is headquartered in Arlington. All eight teams will practice in the surrounding area but fly out to play their weekly games, whereas Arlington avoids travel for home games. 
Former Oklahoma great Bob Stoops is the only returning coach to the XFL and will have familiarity with both coordinators — Jon Hayes and Chuck Long — having worked with them in Norman. 
Expect a pass-first offense led by Kyle Sloter, who completed over 70% of his passes in NFL preseason appearances and had a successful USFL campaign with the New Orleans Breakers. He has a familiar target in Sal Canella at tight end, and Stoops will hope for another XFL breakout at the position after coaching Donald Parham's 2020 season with the Renegades, which helped land him an NFL contract. 
The @XFLRenegades knew what they were doing by reuniting Kyle Sloter and Sal Cannella in the #XFL.

This duo TORCHED the #USFL in 2022. Including the playoffs, they combined for over 500 yards of offense for the New Orleans Breakers…just ridiculous.pic.twitter.com/Z7qZxCCyEz

— James Larsen (@JamesLarsenPFN) January 16, 2023
Arlington has plenty of coaching experience, familiarity with the league, and the pieces offensively to run a fun and dangerous system. 
Houston Roughnecks
The Roughnecks will be coached by Wade Phillips — one of the most recognizable names in the entire league. The former head coach of the Broncos, Bills, and Cowboys, and longtime defensive coordinator, is still manning the sidelines at the age of 75. 
Championship Roster https://t.co/3r80NrLZo3

— Wade Phillips (@sonofbum) February 11, 2023
It'd be a surprise if the defense isn't among the league's best, considering Phillips' long resume on that side of the ball. 
The offense has a chance to be exciting under offensive coordinator AJ Smith, a former disciple of both Hal Mumme's Air Raid and June Jones' Run-and-Shoot. He became an offensive coordinator at just 21 years old and has since coached at places like UCLA, SMU, Louisiana, and Northwestern State.
There will be competition at quarterback but this is arguably the deepest signal-caller room in the XFL. Cole McDonald, Kaleb Eleby, and Brandon Silvers will compete for the job. McDonald has experience with the run-and-shoot from his college days at Hawaii, Eleby was once an intriguing under-the-radar prospect at Western Michigan, and Silvers brings plenty of experience in alternative football leagues. 
Former Washington State star Max Borghi should fit the system perfectly as an adept pass catcher and busted prospect with something to prove, while the wide receiving room is deep with names that should become contributors. Cedric Byrd (Hawaii) and Travell Harris (Washington State) both have experience in the offensive system, while Deontay Burnett (USC) and Jontre Kirklin (LSU) are both recognizable names to college football fans. 
Orlando Guardians
Orlando will be coached by Terrell Buckley, a 13-year NFL veteran who accumulated 50 career interceptions. This will be his first gig as head coach after spending 15 years as a position coach in the college ranks. What he lacks in experience, he certainly brings in affability and intensity.
Early returns out of camp regarding the roster have been concerning. The Guardians enter with the lowest expectations in the league, considering they're the longest shot to win the championship at +900 in the futures market. 
Nobody won the quarterback job in camp, so a former first-round pick of the Broncos, Paxton Lynch, was recently signed to compete with Deondre Francois and Quinten Dormady. 
Despite the power that Lynch brings, due to his draft capital, the fact is that the 6-foot-7 signal-caller hasn't had much success at any stop in his career. Most recently, he averaged 6.6 yards per attempt while tossing five touchdowns and four interceptions in the USFL with the Michigan Panthers. 
Francois was a star a Florida State for a very brief period in time, but he's most well-known for two things, neither of which are positive — getting injured in the first game of the 2017 season against Alabama and being dismissed from the team in 2019.
San Antonio Brahmas
San Antonio gets a much-needed football team to cheer for, and one with arguably the most interesting name in the XFL. 
Former Dancing With the Stars legend Hines Ward (yes, he used to play football, too) begins his head coaching career with modest expectations at +650 in the XFL Championship futures market. 
He'll have two experienced coordinators on his staff in Jaimie Elizondo and Jim Herrmann, and San Antonio wisely drafted several players with whom these two have worked with in the past. Familiarity is always hard to come by in alternative football leagues like this, and it can be crucial to success. 
Jack Coan was present for quite a few preseason media events and earned the nod at quarterback. He played at Wisconsin for four years before transferring to Notre Dame and having a highly successful 2021 season, completing 65.5% of his passes for 8.2 yards per attempt and 25 touchdowns to just seven interceptions. 
Introducing… QB1 ???????? #XFL2023 | #HornsForward ?????????? pic.twitter.com/zh11dDnetP

— San Antonio Brahmas (@XFLBrahmas) February 14, 2023
Jacques Patrick and former NFL player Kalen Ballage will likely form a 1-2 punch in the backfield. While the receiving room brings a lot of unknowns, all six wideouts on the final 51-man roster have experience in the NFL. 
DC Defenders
Reggie Barlow gets his shot in the XFL after primarily coaching at HBCUs. A former Super Bowl champ with the Tampa Bay Buccaneers, Barlow said that he wants his team to play fast and aggressive. 
Jordan Ta'amu is the likely starting quarterback, and he's a good one. The former Ole Miss star has plenty of experience in spring football leagues, having appeared in both the XFL and USFL. 
Jordan Ta'amu (@JTaamu10), QB, Tampa Bay Bandits

"Ta'amu led the USFL in attempts (302), passing yards (2,014), and passing touchdowns (14)…perhaps more impressive was his usage on the ground, where he accumulated 365 yards and a score."pic.twitter.com/PCPmC1J00e

— Pro Football Network (@PFN365) June 25, 2022
He was a star with St. Louis in the 2020 iteration of the league, completing 72% of his passes for 8.0 yards per attempt while tossing five touchdowns and two interceptions. He added another 217 yards and a score on the ground in just five games of action before the league was shuttered. 
His stint in the USFL wasn't quite as successful, as he completed 57% of his passes while tossing 14 touchdowns to 12 interceptions. 
Expect to see a run-heavy approach with former Baylor star running back Abram Smith (the first pick of the XFL draft) leading the charge and Ryquell Armstead, Pooka Williams, and Artavis Pierce on hand to form the league's best running back room. 
The Defenders are viewed as a middle-of-the-pack team in the futures market, listed at +650 to win it all.
Seattle Sea Dragons
Former NFL Coach of the year Jim Haslett heads what is expected to be a competitive team in Seattle. Offensive coordinator June Jones also brings plenty of experience to the table, and defensive coordinator Ron Zook has plenty of familiarity with Haslett having coached together at previous stops. 
Quarterback will be a battle between Ben DiNucci and Steven Montez. Smart money is on DiNucci — a former Dallas Cowboy — to win the job. He threw for over 5,700 yards to go with 45 touchdowns in his college career at James Madison. 
The running back room is unproven, although former Marshall star Brendan Knox could earn an opportunity. 
We're burying the lead here, however, as wide receiver Josh Gordon has a chance to be the star of the show. The talented pass catchers briefly starred in the NFL before getting into hot water a time or two (or 12).
Josh Gordon's 1,646-yard receiving season. (2013)

????: #BUFvsKC — Sunday 8:20pm ET on NBC
????: NFL app pic.twitter.com/RqKaguxtNa

— NFL Legacy (@NFLLegacy) October 8, 2021
Kevin Shaa brings 4.3 speed and Blake Jackson brings XFL experience as two other options in the receiving room. 
St. Louis Battlehawks
St. Louis undoubtedly had the best fan base during the 2020 season. The city will be glad to welcome football back to town yet again.
Anthony Becht gets his shot as a first-time head coach. The former NFL tight end received solid reviews out of camp and seems determined to make his chance last.
Now 32 years old, AJ McCarron seems likely to be named starting quarterback as he boasts plenty of NFL experience. The running back room features two interesting names in Brian Hill and Mataeo Durant. Hill accumulated nearly 1,000 rushing yards at the NFL level on 4.7 yards per carry, while Durant exploded for 1,241 rushing yards and 11 touchdowns for a bad Duke team in 2021. 
With positive buzz out of camp, the Battlehawks sit at +500 to win the XFL Championship.
Vegas Vipers
Vegas joins the XFL as the Vipers relocate from Tampa. NFL legend Rod Woodson makes his coaching debut and brings plenty of positivity. Will those good vibes lead to wins on the football field?
Luis Perez has bounced around various spring leagues and NFL camps by now — it seems like there isn't a league on any team in America that he hasn't played for. He'll compete with former UCLA star Brett Hundley, a former fifth-round NFL Draft pick, for the starting job. 
Martavis Bryant gets a second chance as a professional. Having worn out his welcome in the NFL, Bryant is still just 30 years old. Boasting 2,183 receiving yards and 18 touchdowns to his career resume in the big leagues, Bryant will look to prove that he is back on track. 
Martavis Bryant had all the potential in the world #Steelers #HereWeGo #Pittsburgh #nfl pic.twitter.com/iSHNFMbNec

— matthew luciow (@Luciow1992) February 7, 2023
A solid defensive line gives this team a relatively high floor on that side of the ball. Vic Beasley, a former All-Pro with the Falcons who recorded a league-leading 15.5 sacks in 2016, hopes to be the star of the show. 
XFL players to watch
Josh Gordon WR Seattle
Flash Gordon was a star at Baylor and then set the football world on fire during his short stint in the NFL. Talent has never been the question with Gordon, who caught 87 passes for 1,646 yards and nine touchdowns with the Cleveland Browns across just 14 games in 2013. 
Does Gordon still have enough gas in the tank to be a star in the XFL? More importantly, can Gordon find enough consistency to stay on the field?
Martavis Bryant WR Vegas
Similar to Gordon, Martavis Bryant was once one of the most talented wide receivers in the world. After starring for the Pittsburgh Steelers, things quickly headed south and bottomed out with the Raiders. The former fourth-round pick is still young enough to earn his way back to the league with a strong showing with the Vipers. 
Vic Beasley LB Vegas
Beasley possesses immense pass-rushing talent. You don't reach the heights that Beasley did in his career without being a special player, and he'll look to prove to everyone that he still possesses his old pass-rushing chops. 
Beasley was the ACC Defensive Player of the Year in 2014 and was a two-time consensus All-American. His 2016 season with the Falcons was one to remember as he led the league in sacks (15.5) and was tied for the lead in forced fumbles (6).
XFL recommended bets for 2023
Arlington Renegades (+430)
I believe that Arlington is the rightful favorite, and the price isn't enough to keep me away from the betting window — +430 is still pretty darn good for a league with only eight teams. 
Bob Stoops is an accomplished coach and seems dedicated to the task at hand. The offense will be pass-first and should find success under Sloter, who was a standout in the 2022 USFL season. 
Running back De'Veon Smith lead the XFL in rushing yards in 2020, while the receiving room has plenty of intriguing names ready to emerge as options for Sloter. 
Their OL coach, Jonathan Himebauch, is fresh off a USFL title with the Birmingham Stallions — providing some confidence that the offensive trenches will be in good hands. 
The defensive front figures to be solid, while Donald Payne is a star at linebacker after leading the USFL with 117 tackles. 
The secondary has star power as well, where De'Vante Bausby leads the charge while Josh Hawkins and Shakur Brown provide experience. 
Arlington looks like the most talented team in the league on paper and has an experienced coach in Stoops, so I'm fine playing them as the favorite. 
DC Defenders (+650)
Out of the teams in the middle of the field for championship odds, it was a close decision for me between DC and Houston. I ultimately went with DC, who I believe should be a balanced team that could be above league average on both sides of the ball.
The offense will be able to run the ball with Abram Smith leading the charge. Offensive coordinator Fred Kaiss has worked with Barlow in the past and coached up successful run-first offenses. The defense will feature a fearsome front seven, led by Reggie Northrup II (82 tackles in the USFL).
They play in Audi Field, a soccer stadium that should have a tremendous atmosphere and provide ample home-field advantage. 
XFL rules to know
The most obvious difference between the XFL and NFL is the extra points system. After a touchdown, teams choose between three different options:
One-point try from the two-yard line.
Two-point try from the five-yard line.
Three-point try from the 10-yard line.
That's right — there's no kicking the extra point. Regardless of which of the three options teams choose from the list above, they must run an offensive play from the extra point. 
After the touchdown, teams have two options if they hope to keep the ball and not relinquish possession. The first is a standard onside kick attempt, but the second involves keeping the offense on the field and converting a 4th and 15 from their own 25-yard line. Convert, and you keep the ball. Fail, and the other team takes over. 
If the game makes it to overtime, the rules then differ from both the NFL and college football. Teams will alternate attempts from their opponent's five-yard line. Each team will get three attempts, worth two points each.
Oh yeah, and double forward passes are also allowed — so long as the first is completed — and the second is thrown — behind the line of scrimmage.
Week 1 odds
Odds via DraftKings Sportsbook on February 14, 2023.
Vegas Vipers at Arlington Renegades 
| | |
| --- | --- |
| Opening Line: | Renegades -2, O/U 37 |
| Date: | Saturday, February 18 |
| Kickoff: | 3:00 p.m. ET |
| TV: | ESPN |
Orlando Guardians at Houston Roughnecks
| | |
| --- | --- |
| Opening Line: | Roughnecks -1, O/U 35.5 |
| Date: | Saturday, February 18 |
| Kickoff: | 8:30 p.m. ET |
| TV: | ESPN |
St. Louis BattleHawks at San Antonio Brahmas
| | |
| --- | --- |
| Opening Line: | Brahmas +2.5, O/U 36.5 |
| Date: | Sunday, February 19 |
| Kickoff: | 3:00 p.m. ET |
| TV: | ESPN |
Seattle Sea Dragons at DC Defenders
| | |
| --- | --- |
| Opening Line: | Defenders -1.5, O/U 35.5 |
| Date: | Saturday, February 18 |
| Kickoff: | 8:00 p.m. ET |
| TV: | ESPN |
Pages related to this topic